Trending Now: Vertical Metal Wall Art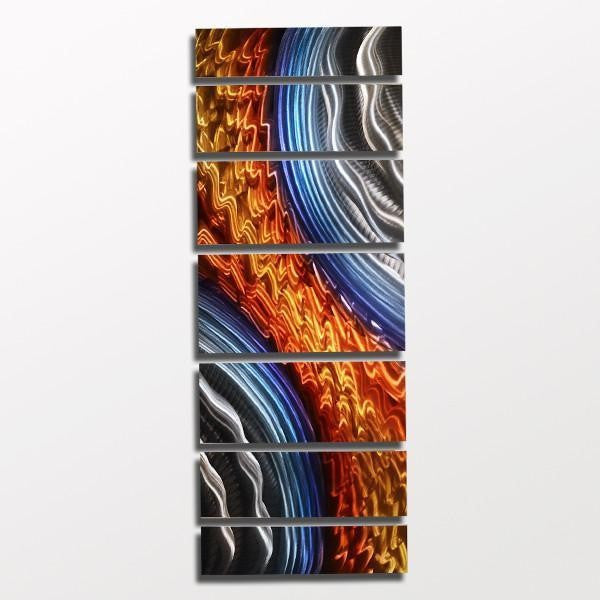 All of our pieces of large metal wall art come with a hanging template, which makes mounting the pieces very quick and easy. Additionally, with every single one of our pieces, you have the option of hanging them horizontally, vertically, or any way that you choose! That being said, there are some pieces that look a little better in the vertical position than others. Today, we've decided to go over a few of some of our favorite pieces of vertical metal wall art!
Urban Vibration – This piece measures 46" x 10", and is great for a space where you may not have a lot of room! As you can see, this piece looks amazing when hung vertically, and has an extremely abstract feel to it. The colors on this piece are yellow, green, and blue candy paint.
Cosmic II – This is such a versatile piece of vertical metal wall art! With it being silver, it makes it easy to match with any of your current home décor. Not only that, but it looks amazing whether it's hung horizontally or vertically! You really can't go wrong with Cosmic II.
Titan Storm – If you're looking for a piece that is unbelievably unique and colorful, we highly recommend Titan Storm. It's hard for us to decide which way we like this piece of wall art better – horizontal or vertical. This colorful piece includes hues of blue, orange, and red.
Typhoon – This piece of large metal wall art is incredibly popular, and it's easy to see why! Not only do the hand-sanded designs create amazing contrasts and reflections, but this is another piece that looks just as nice in the vertical position as it does being hung horizontally.
Have you chosen to mount any of our metal wall art vertically? If so, which piece did you choose? Let us know in the comment selection below!