Top Three Most Unique Pieces Of Lighted Wall Art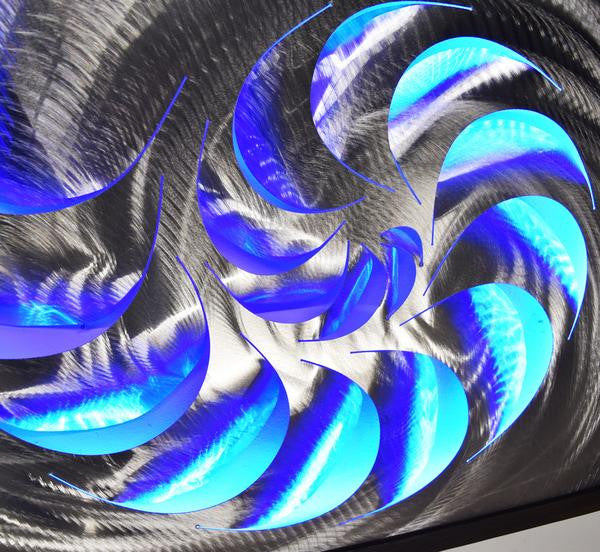 Wall art with LED lights are extremely unique pieces of artwork by themselves. However, like all things, there are some that are more unique than others. The pieces that we offer here at DV8 Studio are pieces of LED metal artwork that you simply cannot find anywhere else! Our pieces are designed by us, handcrafted, sanded, painted, and assembled in Cincinnati, Ohio. While we would argue that all of our pieces are incredibly unique, we've put together a list of our top three most unique pieces of lighted wall art.
Fracture – This is one of our newest pieces of artwork available at DV8 Studio. Not just our lighted wall art pieces, but it's one of the newest overall! This amazing piece of artwork was inspired by volcanic cracks in the earth's surface. Each metal art panel is off-set from the base and back-lighted. With this piece, and all of our lighted pieces, you have the ability to control the LED lighting via wireless remote control, or with an optional smart phone controller app.
Ammonite – Have you ever seen anything like this? We highly doubt that you have! This is a piece that was inspired by ammonite fossils that are often found embedded in stone. Could you tell?! Ammonite is an LED metal wall sculpture that has been crafted from aircraft grade aluminum, with a solid reclaimed ash frame. If you're looking for a piece of lighted wall art that captures your guest's attention, look no further!
Impulse – There's no denying that Impulse is a favorite among our customers who love wall art with LED lights! This piece has a holographic appearance, which is achieved by skillful texturing of the metal surfaces, as well as artfully sculpting the reflecting layers to create depth and dynamic range. This LED metal artwork is made up of 50 individual panels, and has a geometrical abstract design!
Out of the three we've highlighted, which one is your favorite? Let us know in the comment section below! Also, as a friendly reminder, don't forget that from now until April 10, 2017, we will be donating 10% of your purchase price to St. Jude's Children's Research Hospital.